Central China
Central China :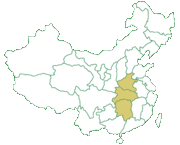 Central China geographically refers to the Yangtze River Basin region, an area south to the Qinling Mountains and the Huaihe River , north of Nanling , Wushan Mountain , and Xuefeng Mountain . Administratively, it consists of Henan , Hubei , and Hunan provinces.
Destinations
Henan , literally "south of (Yellow) river", got its name from its location: the south of the Yellow River .
Hubei, which lies in the middle Yangtze River valley, derived its name from its location north of the Dongting Lake.
Hunan is known for its waters (like Lake Dongting) and mountains (like Zhangjiajie), and is one of the most beautiful provinces in China. Hunan's agriculture supply China much of its rice, oranges, ramie, and tea.
Nothing you like?
or let us know your requirements
email us