Northeast China
Northeast China :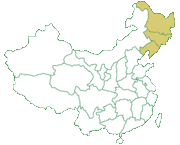 The eastern region of Inner Mongolia(内蒙古), and Heilongjiang , Jilin , Liaoning provinces are collectively called Northeast China .
Northeast China has a population of 118 million (as of 2000) (about 8% of total in China), and a size of over 150,000 sq km. It is rich in such natural resources as coal and oil.
Winter in this region lasts more than six months, and summer sees most of its rainfalls. The area is mostly covered with forests. And not surprisingly, agriculture and forestry are the region's biggest industries.
Northeast China is also China's heavy industry case dating back to the 1930s. In 1950s to 1980s, many new heavy industry facilities were also built here due to its position of the leading industrial base and its close relationship with the former Soviet Union. Daqing Oilfield and Liaoning Anshan Iron and Steel Plant are the most well-known among the large companies in that area.
Destinations
"Liáo" is an ancient name for this region, which was adopted by the Liao Dynasty (Khitan Empire) which ruled this area between 907 and 1125. "Níng" means "peacefulness".
The name "Jilin" probably originates from Girin ula, a Manchu term meaning "along the river";
This northeast province, which derived its name from the river (Black Dragon River) flowing along the border China has with Russia.
Nothing you like?
or let us know your requirements
email us