South China
South China :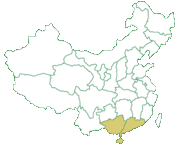 South China refers to Guangxi Zhuang Autonomous Region, Guangdong, and Hainan , including the area of the southern South China Sea and the South China Sea islands. It is one of China's economically better developed region with abundant land, water, gas, mineral and tourism resources.
South China region is the south most part of China. It's separated from the Philippines, Malaysia, Indonesia, Brunei and other countries by the South China Sea, and borders Vietnam, Laos, Myanmar and other Southeast Asia countries.
South China has a tropical, subtropical climate. There are more than 300 days with average temperature above 10°C, and even the coldest months has an average temperature of above 10°C. The annual rainfall in most areas is 1400-2000 mm.
Destinations
The provincial capital Guangzhou(also known as Canton) and economic hub Shenzhen are among the most populous and important cities in China.
Many rivers cut valleys through the mountains. Most of these rivers form the tributary basin of the West River.
Hainan, separated by the Qiongzhou Strait from the Leizhou Peninsula of Guangdong, is the largest island administered by the People's Republic of China.
Nothing you like?
or let us know your requirements
email us